As the owner of Frank's European Service, I know that you drive the best, and you should expect the best service. My team and I will personally listen to your needs and make sure you are completely satisfied with the service you receive. I was born in New York City and grew up about an hour north in Orange County, NY. With four sons (Greg, Frank, Chris and Brad ages 32-37) and 7 grandchildren (Cole, Skyler, Damian, Evyn, Lilliana, Shane and Lennon), I stay very busy at home giving rides on my quad. I have been in the car business most of my life, and all 30 years in Las Vegas.
DEBORAH SCANDURA
Owner's Boss
Deborah Scandura is Frank's wife of 17 years. Between them, they have four boys (Brad, Frankie, Greg and Chris) that range from 32 to 37 years of age and 7 grandchildren Cole, Skyler, Damian, Evyn, Lilliana, Shane and Lennon. Deborah was born in El Paso, Texas and grew up in Southern California before moving to Las Vegas 30 years ago. She was given a crash course in the car business after Frank had decided it was time to open Frank's European Service in 2001. Together, Frank and Deborah are devoted to serving their community and church.
Patrick has been in the automotive business for 15 years now and has been with us for ten. He is one who likes to work hard and play even harder. Some things that he involves himself with are playing hockey, snowboarding, golfing, riding dirt bikes and surfing. Patrick is single, but you will have to compete with his only love, his dog Lucy.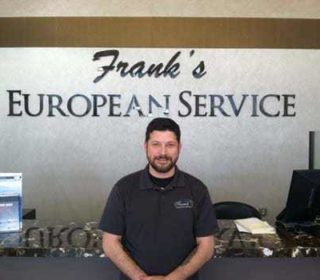 Greg Rubin has been with Frank's European Service for 10 years now and is one of our hardest working employees. Greg likes Pina Coladas and getting caught in the rain. He works to support his household which consists of his wife Theresa, sons Shane and Lennon and three cats and two dogs. When not at work, his favorite pastime is playing the guitar and is currently in a band named Lambs to Lions.
PABLO M.
Master Technician
With 14 years of experience under the hood, Pablo says he loves working on cars and fixing things. He's a man who works hard and he likes figuring out how to solve a problem, especially on older cars.
For hobbies, Pablo can't get enough of the outdoors and he likes to go hiking and camping (his favorite place to go is Yosemite) and he loves spending his weekends with his nephew, helping his brother save on babysitting.
JASON B.
Master Technician
Jason is a family man, a wife and 2 kids (Including a teenage daughter!) some of Jason's favorites things are  family time, doing a good job and a steak dinner! He is restoring a 1957 Cadillac and loves to go shooting! Jason brings over 20 years of experience to us.
Gostavo has a whopping 15 years of experience as a Service Valet in the Automotive Industry and we consider him to be the fastest wash in the great state of Nevada! His personal interests are in  International Football (also known as Soccer), American Football (only known as Football), playing Black Jack, and taking long walks with his family of four.
TRAVIS B.
Service Manager
We are happy to have Travis back on Team Frank's . Travis has been in Sales and Service and Management for 20 years. Since he has returned, he his now married to his beautiful wife Suzy. Travis's hobbies are golfing, snowboarding and handball. He loves to laugh and enjoy spending time with close friends and family and cuddling with his two cats Cookie and Loki.
WILLIAM "Buddy" I.
Master Technician
Buddy has been in the Automotive Industry for 15 years, starting his career in beautiful Hawaii. Buddy along with his fiancé – Ashlynn and their 3 furry children, Sookie a Shih Tzu, Bon Bon a Hedgehog and of course Mushu their chinchilla moved to Sunny Las Vegas in February. Buddy is a car enthusiast and some of his hobbies are Dirt Bikes and Motorsports. He also loves family time.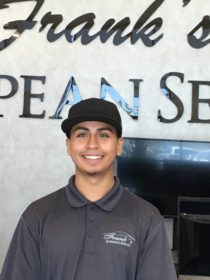 XAVIER C.
Quality Control
Xavier known to his friends as "X" for short, come to Frank's European Service with 5 years' experience. Watching his Uncle build race cars is what sparked his interest. His hobbies are writing and creating music. He loves spending time with his family and barbequing and on his relaxing time likes to watch comedy movies.
Oscar comes to Franks with much enthusiasm, always willing to lend a helping hand and a great team player. On his weekend time he enjoys playing video games and watching YouTube. Some of his hobbies include playing soccer and taking his German Shepard named "Diabla" to the park. Oscar also likes spending time with family.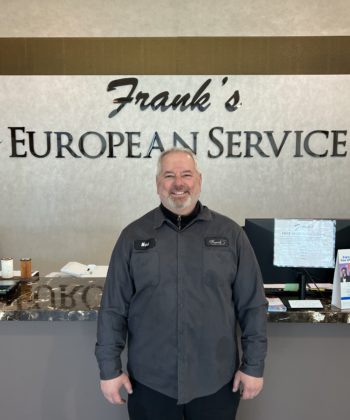 Talia G.
Assistant Manager