As the owner of Frank's European Service, I know that you drive the best, and you should expect the best service. My team and I will personally listen to your needs and make sure you are completely satisfied with the service you receive. I was born in New York City and grew up about an hour north in Orange County, NY. With four sons (Greg, Frank, Chris and Brad ages 32-37) and 7 grandchildren (Cole, Skyler, Damian, Evyn, Lilliana, Shane and Lennon), I stay very busy at home giving rides on my quad. I have been in the car business most of my life, and all 30 years in Las Vegas.
DEBORAH SCANDURA
Owner's Boss
Deborah Scandura is Frank's wife of 17 years. Between them, they have four boys (Brad, Frankie, Greg and Chris) that range from 32 to 37 years of age and 7 grandchildren Cole, Skyler, Damian, Evyn, Lilliana, Shane and Lennon. Deborah was born in El Paso, Texas and grew up in Southern California before moving to Las Vegas 30 years ago. She was given a crash course in the car business after Frank had decided it was time to open Frank's European Service in 2001. Together, Frank and Deborah are devoted to serving their community and church.
Patrick has been in the automotive business for 15 years now and has been with us for ten. He is one who likes to work hard and play even harder. Some things that he involves himself with are playing hockey, snowboarding, golfing, riding dirt bikes and surfing. Patrick is single, but you will have to compete with his only love, his dog Lucy.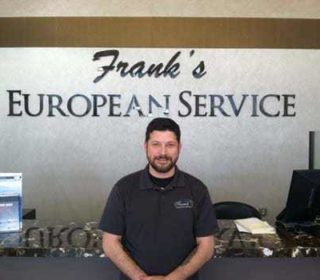 Greg Rubin has been with Frank's European Service for 10 years now and is one of our hardest working employees. Greg likes Pina Coladas and getting caught in the rain. He works to support his household which consists of his wife Theresa, sons Shane and Lennon and three cats and two dogs. When not at work, his favorite pastime is playing the guitar and is currently in a band named Lambs to Lions.
JASON B.
Master Technician
Jason is a family man, a wife and 2 kids (Including a teenage daughter!) some of Jason's favorites things are  family time, doing a good job and a steak dinner! He is restoring a 1957 Cadillac and loves to go shooting! Jason brings over 20 years of experience to us.
TRAVIS B.
Service Manager
We are happy to have Travis back on Team Frank's . Travis has been in Sales and Service and Management for 20 years. Since he has returned, he his now married to his beautiful wife Suzy. Travis's hobbies are golfing, snowboarding and handball. He loves to laugh and enjoy spending time with close friends and family and cuddling with his two cats Cookie and Loki.
WILLIAM "Buddy" I.
Master Technician
Buddy has been in the Automotive Industry for 15 years, starting his career in beautiful Hawaii. Buddy along with his fiancé – Ashlynn and their 3 furry children, Sookie a Shih Tzu, Bon Bon a Hedgehog and of course Mushu their chinchilla moved to Sunny Las Vegas in February. Buddy is a car enthusiast and some of his hobbies are Dirt Bikes and Motorsports. He also loves family time.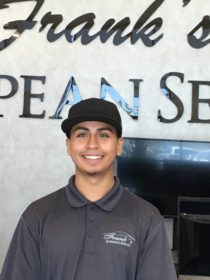 XAVIER C.
Quality Control
Xavier known to his friends as "X" for short, come to Frank's European Service with 5 years' experience. Watching his Uncle build race cars is what sparked his interest. His hobbies are writing and creating music. He loves spending time with his family and barbequing and on his relaxing time likes to watch comedy movies.
Oscar comes to Franks with much enthusiasm, always willing to lend a helping hand and a great team player. On his weekend time he enjoys playing video games and watching YouTube. Some of his hobbies include playing soccer and taking his German Shepard named "Diabla" to the park. Oscar also likes spending time with family.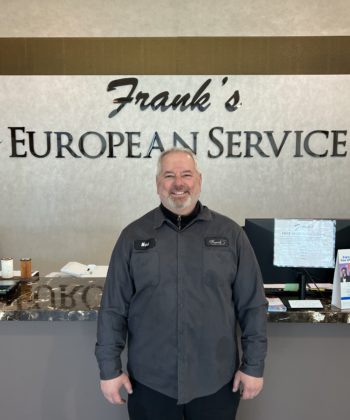 Mark D.
Master Technician
Mark is a seasoned expert in European vehicle repair, boasting over 30 years of experience in the field. With a love for what he does, Mark approaches his work with unwavering dedication and a motto that resonates: "Love what you do, and you'll never work a day in your life." Alongside his supportive wife TerriLee and two daughters, Amanda and Samantha, Mark finds a balance between hard work and cherished moments. His interests range from the thrill of motorcycle rides and the tranquility of fishing to exploring new places through travel, camping, and watersports. At home, a loyal German Shepherd keeps him company. Mark's expertise extends to brands like Volvo, Jaguar, and Land Rover, and he's even owned his own repair shop. Prior to his career in automotive repair, Mark served in the Marine Corps, instilling in him a deep sense of discipline and commitment to excellence. His wealth of experience and genuine passion for the industry make Mark an invaluable asset to Frank's European Service.
Timothy is a man who cherishes family above all. He shares his life with his loving wife Gabrielle and their son Kenneth. Together, they revel in the simple joys of spending quality time together and embarking on memorable road trips. Timothy's creative side comes to life through his love for music, where he skillfully strums the guitar and his growing expertise in the art of tattooing. At home, he's accompanied by two feline companions, Ohana and Bella, along with a spirited hamster named Scoops. With an impressive 26 years of experience in the auto industry, Timothy's wealth of knowledge is unmatched. He carries with him a guiding philosophy captured by Abraham Lincoln: "The best way to predict the future is to create it," a sentiment that speaks to his forward-thinking approach and determination.
Talia G.
Production Manager
Talia is a vibrant individual with a zest for life. She's a proud mother of two sons, Jesaiah and Gabe, and shares her world with her loving husband Mike. Talia finds joy in the simple pleasures, from savoring delicious food to immersing herself in music and nature. She also has a passion for shoes that adds a dash of style to her pursuits. When she's not enjoying the outdoors, you'll likely find her immersed in interior design, DIY projects, or whipping up delectable creations in the kitchen. Talia's home is filled with the lively energy of two boxers, Cassius and Luna. With six years of experience in the auto industry, Talia brings efficiency, positivity, and a down-to-earth approach to her role at Frank's European Service. Her witty personality and happy disposition make her a valuable member of the team, and her knack for getting things done with precision is a testament to her dedication.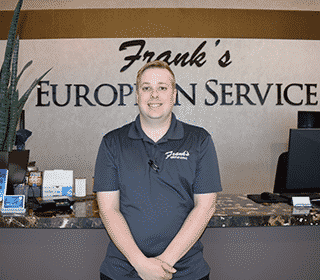 Mathew is a man of diverse passions, with a keen interest in project cars, video games, and all things related to flying. Alongside his supportive wife Jessica and two lovely daughters, Sophia and Luna, Mathew is on a mission to acquire his private pilot license, further fueling his dream of taking to the skies. With an impressive eight years in the auto industry under his belt, Mathew brings a wealth of experience and expertise to his role at Frank's European Service. At home, a lively menagerie of one dog, two cats, a rabbit, and ten birds keeps the family company. Mathew's aspiration is crystal clear – he's set on becoming a pilot, a goal that reflects his unwavering determination and love for aviation.
Steven is a dedicated individual with a deep love for family and football. When he's not enjoying quality time with his two nieces and nephew, you can find him indulging in his passion for BBQ. At home, Steven's two fortunate dogs revel in being thoroughly spoiled. With an impressive 14 years of experience in the auto industry, Steven brings a wealth of expertise to his role at Frank's European Service. Beyond the workshop, Steven harbors dreams of exploring the diverse cultures and landscapes of Europe, a testament to his adventurous spirit and yearning for new experiences.
Michael G.
Master Technician
Michael is a man with a passion for life's simple pleasures. He's a devoted husband to Talia and a proud father to two wonderful sons, Gabe and Jesaiah. Michael's interests are as varied as they are enjoyable, ranging from his love for cars and savoring delectable meals, to mastering the art of BBQing. He finds exhilaration in riding his Can-Am through the vast desert landscapes and cherishes moments spent with his cherished family. At home, Luna and Cassius, two lively boxers, add a touch of playfulness to the household. With an impressive 30 years in the auto industry, Michael's expertise and dedication are unparalleled, making him an invaluable member of the Frank's European Service team
Emanuel "Manny" D.
Service Advisor
Emanuel, known affectionately as Manny, is a proud father to two beautiful children: an energetic 3-year-old daughter and an adventurous 8-year-old son. Manny's interests are as diverse as they are engaging, encompassing a love for cars, travel, and outdoor activities. He finds relaxation and enjoyment in pursuits like bowling, pool, and the thrill of snowboarding down slopes. While he doesn't have any pets, Manny's heart is filled with a passion for helping others. With over a decade of experience in the auto industry, Manny brings a wealth of knowledge and a deep-seated love for the field. Born and raised in the vibrant city of Las Vegas, he's a true local who takes immense pride in contributing to the automotive community.
Aaron R.
Service Valet Porter
Aaron is a sports enthusiast who finds joy in both playing and watching various athletic pursuits. With two sisters and a brother, family bonds are deeply important to him. When he's not on the field or court, Aaron enjoys the thrill of video games and the serenity of outdoor activities. At home, he shares his space with a loyal canine companion. While this is Aaron's inaugural foray into the automotive industry, his passion and dedication are evident. He may not consider himself a conversational maestro, but he excels in maintaining engaging dialogues once initiated.
Raphael is a vibrant individual with a love for music and adventure. He treasures his close-knit family, which includes two loving parents, a brother, and a sister. Raphael's interests span a wide spectrum, from the immersive world of video games to the pulsating beats of concerts and raves. He also finds solace in the great outdoors, often embarking on invigorating hikes, and has a penchant for the camaraderie of bowling. When at home, Raphael is a true creative spirit, either engrossed in video games or crafting his own music. He cherishes moments spent with friends, whether it's strumming his guitar or producing music, all in the pursuit of making cherished memories. A lively Dachshund companion named Delta completes Raphael's household. With six years of dedicated service in the auto industry, Raphael's expertise and passion make him a valuable asset to the Frank's European Service team.
Syahreza "Reza" S.
Service Valet Porter
Syahreza, affectionately known as Reza, is the youngest member of a tight-knit family of five. He holds a deep appreciation for the simple joys of life, finding comfort in the companionship of family and friends, and the pleasures of good food and music. Reza's hobbies extend to the lanes of a bowling alley, where he skillfully aims for strikes, and to the stage, where he expresses himself through music and singing. Though he doesn't have a furry friend yet, Reza's heart is set on welcoming a dog into his life. This marks Reza's inaugural venture into the automotive industry, where he's eager to make his mark. His determination to excel is driven by his admiration for his father, fondly referred to as Pops, who serves as an unwavering source of inspiration. Pops, in Reza's eyes, is the embodiment of someone who can do it all.